29. Juli 2020 12:30 Uhr bis 14:00 Uhr
Findet in digitaler Form statt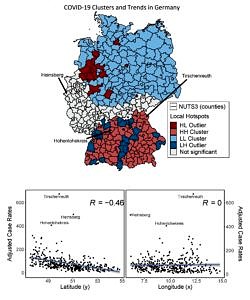 Data Driven Narratives for Environmental Modelling and Pattern Recognition
Chris Scarpone. MSA, MSc
As Geographers, we use stories to justify our observations about physical and environmental processes. These stories build into how we generate hypotheses and they influence the kinds of analyses that we will conduct to understand the natural world. Our analysis is limited to the kind of information that we have, which is defined by the digital data that we use to represent our physical world. It is often overlooked how important our digital representations are to understand each of these stories. Many elements of our data need to be considered as important factors in how we understand these stories. These elements that require special consideration are: the physical representations of our data (point, lines, polygons, and rasters), the extent to which we have defined the boundaries of our observations and the scale that we use to define the patterns of these processes. Each of these components will change our understanding of these processes, but it will also change how our models will interpret this information as well. Therefore, it is crucial that we understand the connections of our data and how we have decided to represent the story of each natural process that we are trying to explore.
Through my research, I have explored how we use data to represent our stories and how that impacts prediction accuracy, error, and most importantly, interpretability. Four case studies will be presented to show the dynamic range of geographical data and how it changes how we can approach and begin to test our hypothesis. To understand the impacts of the Urban Heat Island in Toronto, Canada, I use 3D modelling to represent where shadows have been cast from trees throughout a 12-hour day and the relationship to latent heat mitigation that can be attributed to the Urban Forest. To understand the physical process of soil generation and its proxy, soil thickness, I explore how the scale of our data changes the definition of that process in the mountainous Central Interior of British Columbia. Connections are made to how modern machine learning techniques can start to understand the physical representation of patterns in our digital formats.
As the world moves through this current pandemic of COVID-19, I use a case study of incidence rates in Germany to explore the connections of our data. This study emphasised the importance of exploratory analysis of our observations to understand the transmission of the COVID-19, but also the ways in which how it changes how our models understand these data. Lastly, I will present a tool to measure the impacts of grain size on how data and how it represents the process of soil contamination in the River Meuse, Netherlands. Each case study critically asks how we have chosen to represent the real world and emphasises the need to define our story with our data.
Wann: Mittwoch, 29.07.2020 um 12:30 Uhr
Wo: Findet in digitaler Form statt!
******
Das Institutskolloquium findet bis auf Weiteres aufgrund der Covid19-Pandemie nur sehr eingeschränkt und digital statt. Daher werden die Vorträge bis auf Weiteres per Videokonferenz (Zoom) stattfinden. Wenn Sie am Institutskolloquium teilnehmen möchten, melden Sie sich bitte bis 17 Uhr am Vortag des jeweiligen Vortrages beim Einladenden. Der Zugangscode wird Ihnen dann zugeschickt.
Die Anwesenheit der Studierenden wird während der Übertragung überprüft und muss zusätzlich durch ein Kurzprotokoll des Inhalts (1 Seite, 300-600 Wörter) bestätigt werden, das spätestens 24 Stunden nach dem Vortrag per email an den Organisator des physisch-geographischen Kolloquiums (christoph.mayr@fau.de, mit Lesebetätigung) abgeschickt werden muss. Das Protokoll ersetzt den Stempel im Kolloquiumspass solange das Kolloquium digital stattfinden muss.
******
Vorschau:
Dienstag um 10.00 Uhr – Zoom-Veranstaltung
11.08.2020: Forschungskolloquium: Prof. Dr. Dr. h.c. Heiner Bielefeldt (Centre for Human Rights Erlangen-Nürnberg): The Greening of Human Rights
Pflichtveranstaltung im Rahmen der Bachelor-Studiengänge / neue LPO – = Modul KG 16/17; Modul PG16/17; Modul GZB 12/13; Modul GLG 12/13/14/15
******
Fragen zum Kolloquium?
Organisatoren Dr. Andrés Gerique (andres.gerique-zipfel@fau.de) und Dr. Christoph Mayr (christoph.mayr@fau.de).